Pulkovo Airport by Private Jet
Overview summary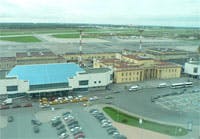 Pulkovo Airport is the main private jet and scheduled airline airport serving St Petersburg, Russia.

The airport was originally opened to link Moscow with St Petersburg (or Leningrad as the city was then known).

Private jet passengers have a choice of six FBOs at the airport. Many private jet operators base private aircraft at the airport, offering good choices for private jet passengers.

For private jet hire to or from Pulkovo Airport call PrivateFly on +44 20 7100 6960 (24 hours).
History | Watch approach video | Location | Facts | Flight Prices
History
Opened in 1932, Pulkovo Airport was originally called Shosseynaya Airport. (Shosseynaya was the name of the nearest train station.) In 1973 the airport was renamed Pulkovo Airport.

The airport played a major role during World War II, as one of the few connections to the city of Leningrad during the Siege of Leningrad.

During the 1950's the airport completed extensions of its runways and a redesigned terminal allowed the airport to handle larger aircraft.

A new terminal began construction in 2011.
Landing at Pulkovo Airport
Pulkovo Airport Location
Pulkovo Airport 20km south of the centre of St Petersburg taking approximately 25 minutes to travel there by car.
Pulkovo Airport Facts
Call sign: LED
Lat: 59.8 N
Long: 30.2633 E
Elevation: 79 ft
Runway distance available: 12408ft
Private Jet Charter Prices – Pulkovo Airport
Find private flight prices online for private jet charter to or from St Petersburg with our private jet cost calculator.
For a personalised quote or further information please contact us or call +44 20 7100 6960 (24 hours).