St Tropez La Mole Airport - Private Jet Charter
Overview summary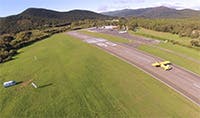 Saint-Tropez La Môle is an airport situated on the French Riviera, situated 15km Southwest from the resort of Saint-Tropez.
Saint-Tropez is one of Europe's most popular and glamorous summer destinations.
Saint-Tropez La Môle Airport's position on the south of the peninsula makes it a popular choice for those visiting the Gulf of Saint-Tropez area or the Calalaire-sur-Mer coastal area to the south.
There is a dedicated private jet terminal (FBO) at Saint-Tropez La Môle airport. The airport is popular with small jets and turbo prop aircraft, and also as a helicopter landing site. Larger jets cannot land due to the shorter runway length.
For private jet charter or helicopter flights from St Tropez Airport call PrivateFly on +44 20 7100 6960 (24 hours).
Flight Prices : History : Watch approach video : Location
Private Jet Charter Prices - St Tropez Airport
See typical private jet charter pricing below for popular private jet routes to St Tropez La Mole Airport.

Search for pricing for your itinerary using our Flight Search. Or for personalised pricing and advice on private jet or helicopter charter to or from St Tropez La Mole contact our Flight Team (24 hours) on +44 (0) 20 7100 6960.

London Luton – St Tropez – London Luton (3 night return)
Aircraft: Beech Super King Air
Seats: 8
Flight Time: 2 hrs 50 mins
Charter Price: £7 387 / €9 311

Paris Le Bourget – St Tropez – Paris Le Bourget (3 night return)
Aircraft: Beech BE90 King Air
Seats: 6
Flight Time: 1 hr
Charter Price: £5 690 / €6 825
St Tropez Airport History
The airport was built in 1964 originally intended for private use for Baron Charles Boyer de Fonscolombe and his family.
In 1983, Saint-Tropez La Môle airport was officially classified as a category D airport, with the capability of serving business, private and national aviation flights.
In 1989 the airport was bought by a Finance company, Sud-Est JP Magnin and JJ Vaissiere, later called AGST.
The airport opened its first seasonal, international route between Saint-Tropez and Geneva in 1995, and then to Zurich in 1996.
Made famous in the 1950s by Brigitte Bardot (who still lives there), Saint-Tropez is still seen as a playground of the rich and famous. The Regatta, taking place each September, is a particular highlight to see some of the world's most glamorous visiting super yachts.
Landing at St Tropez Airport
St Tropez Airport Location
The airport is located between the towns of Cogolin and La Mole, situated on the south peninsula of the Cote D'Azur. Saint-Tropez La Môleairport is situated 15km Southwest of the resort of Saint Tropez.
St Tropez Airport Facts
Airport Codes: LFTZ / LTT
Elevation: 59 feet (18m)
Opening Hours: Extended opening hours on request between sunrise and sunset
With its short runway, St Tropez La Mole is ideally suited to Turbo-prop aircraft such as the King Air. Private jet aircraft can also land at St Tropez although the runway length does make this limited to smaller or Very Light Jets (VLJs) such as the Citation Mustang, Phenom 100 or Phenom 300. Jet aircraft are also limited with passengers numbers and luggage.Access to St Tropez's asphalt runway is also more restricted during unusually high temperatures or strong wind conditions.
If you do wish to depart or land at St Tropez airport, the PrivateFly team can advise, based on your aircraft preference and group size.
St Tropez La Mole Airport is also very popular for helicopter flights and shuttles between destinations such as Nice and Monaco.
For a personalised quote or further information please contact us or call +44 20 7100 6960 (24 hours).