Teterboro Airport - Private Jet Charter
Overview summary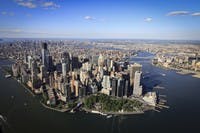 Being located just on the other side of the Hudson River Teterboro Airport serves as the primary private jet airport for Manhattan (just 12 miles) and the whole New York City area.

With its variety of private jet operators and 23 hangars Teterboro Airport is one of the busiest private jet airports in the world and serves as a base for all kinds of business jets.

Hosting 5 state-of-the-art FBO's, with its 24h opening hours and the ability to operate in various weather conditions Teterboro airport combines everything a business traveller is looking for.

For private jet hire to and from Teterboro Airport call PrivateFly on +44 20 7100 6960 (24 hours).
History
Teterboro Airport is the oldest operating airport in the New York City area named after Walter C. Teter who acquired the property in 1917 and after whom the Borough of Teterboro was named.

Serving as a manufacturing plant for North American Aviation in World War I and being operated by the US Army in World War II Teterboro Airport was purchased in 1949 by the Port Authority of New York & New Jersey still operating it to this day.

Since 1970 The Port Authority of New York and New Jersey has invested $174 million upgrading Teterboro Airport's facilities.
Landing at Teterboro Airport
Teterboro Airport Location
Teterboro Airport is located in Bergen County, New Jersey just 12 miles northwest of Midtown Manhattan. It is spread over the 3 Boroughs of Teterboro, Moonachie and Hasbrouck Heights.
Teterboro Airport Facts
Airport Codes: KTEB/TEB
Lat: 40.85 N
Long: -74.0617 E
Elevation: 9 ft
Runway distance available: 7000 ft
Private Jet Charter Prices – Teterboro Airport
Find private flight prices online for private jet charter to or from Teterboro with our private jet cost calculator.