Tivat Airport by Private Jet
Overview summary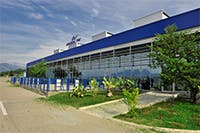 Tivat Airport is located on the east coast of Montenegro by the Mediterranean Sea.

On approach to Tivat Airport passengers are treated to stunning views of luxury yacht marina Porto Montenegro.

For private jet charter to Tivat Airport call PrivateFly on +44 20 7100 6960 (24 hours).
History
Tivat Airport began as a grass runway in 1957, before the airport, including an asphalt runway were built in 1971.
Landing at Tivat Airport
Location
Tivat Airport is approximately 3 miles from Porto Montenegro and 55 miles from Montenegro's capital city Podgorica.
Tivat Airport Facts
Latitude: 42.40
Longitude: 18.72
Runway Length: 8202
Altitude: 20ft
Tivat Airport Prices
For a personalised quote or further information please contact us or call +44 20 7100 6960 (24 hours).