Toulouse Blagnac Airport - Private Jets
Overview summary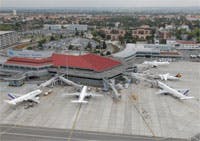 Toulouse Blagnac airport is located just outside the historic city of Toulouse, the centre of the European aerospace industry.
The airport offers excellent connections to Pyrenees ski resorts and the Principality of Andorra.

The airport is used by scheduled airlines and for corporate and private flights.
For private jet charter or helicopter flights from Toulouse Blagnac Airport call PrivateFly on +44 20 7100 6960 (24 hours).
History : Watch approach video : Location : Flight Prices
Toulouse Blagnac Airport History
Toulouse-Blagnac airport was first opened in 1939 and initially used by the French military.
Civil transport of Francazal moved to Toulouse-Blagnac in 1945 and the first terminal was opened in 1953.
On 2 March 1969, prototype 001 of the Concorde took off for the first time from runway 32L. The same runway was later used for the take-off of prototype 001 of the Airbus A380 on 27 April 2005.
Landing at Toulouse Blagnac Airport
Toulouse Blagnac Airport Location
Toulouse Blagnac airport is situated 8 kms from the city centre and its location offers excellent access to the Pyrenees and to Andorra.
Toulouse Blagnac Airport Facts
Airport Codes: TLS
Elevation: 499 feet
Toulouse Blagnac Airport has 2 runways with a maximum runway length of 3500 metres. The runway length is suitable for most private jets from small propeller aircraft up to large airliners.
Private Jet Charter Prices - Toulouse Blagnac Airport
Find private flight prices online for private jet charter to or from Toulouse Blagnac Airport with our private jet cost calculator.
For a personalised quote or further information please contact us or call +44 20 7100 6960 (24 hours).