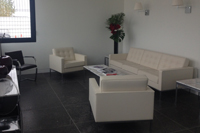 With 45 years of experience in the aviation industry, Unijet, established in 1967 offer private jet customers a highly personalized service at Paris Le Bourget Airport.

Providing a wide range of aircraft passenger handling facilities for private jet users, Unijet's services include ramp space parking, heated hangars, corporate VIP lounges, informal meeting rooms and refreshment facilities.

Unijet has very recently opened its new passenger facility, allowing better services to visiting aircraft and passengers, offering refurbished flight preparation rooms.

For private jet flights using Unijet at Paris Le Bourget Airport call PrivateFly on 020 7100 6960 (24 hours) or contact us.