Ground Services - Private Jet Charter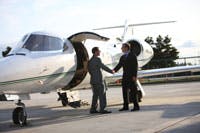 The major benefit of private jet chartering is saving time. Once in the air, your private jet will fly at the same speed as a scheduled airliner but for time-saving on the ground, there is no comparison.
You can arrive at the airport, and transfer seamlessly with immediate take-off and use the time in the air to maximum effect as you wish.
Private jet hire means you leave the stress and strain of airport delays behind you.
For private jet charter flight advice or prices call our 24 hour expert flight team on +44 (0)20 7315 4454
Travel arrangements to and from the airport
PrivateFly has a 24 hour Trip Management team who can help you with every aspect of your private flight. If you need a car transfer to or from the airport please contact our team on +44 (0)20 7315 4454
Flight schedules and delays
PrivateFly's motto is 'no surprises'. Your private jet will land at least an hour and a half before your departure ensuring flexibility, should you wish to depart early.
Unavoidably air traffic control can occasionally delay your private jet charter. In this case, PrivateFly will advise you in plenty of time, allowing you to plan ahead with minimal disruption to your onward journey.
VIP Lounges and waiting areas
Whilst airlines compete to have the finest first class lounges, private jet travel allows you to dispense with this requirement altogether.
VIP Lounges are of course available at all private jet hubs but it is your choice whether or not to use them.
With no waiting time, you may simply prefer to step straight on board your aircraft.
At the Airport
At every airfield PrivateFly has a local representative handling agent or FBO (Fixed Based Operator) to take you to and from your aircraft.
This may involve just a few steps if your car is permitted airside or at most, a 5 minute transfer in a MPV.
With executive jet charter, there will be no delays at security, limitations on hand luggage or invasive body searches.
Meet your Pilots
Chartering a private jet gives you direct access and communication with your pilots. Whether you want to know the end-destination weather forecast or just want to check your catering has arrived, your dedicated crew is at your service.
More information on Private Jet Charter
For more information on our services or for a personalised private jet quote please contact us or call +44 (0)20 7315 4454.