Onboard Your Private Air Charter Service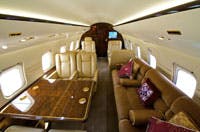 Our private jet expert team will find out the best price and aircraft for your flight.
Our Trip Management Team makes sure that every detail of your flight is looked after. Just let our team know your catering requirements, or if you are travelling with pets, or need special assistance.
Our team are available 24 hours on +44 (0)20 7315 4420
Private Jet Catering
Many private flights include standard VIP drinks and snacks. But if you have specific dietary requirements or would like to order special catering on board please let your Flight Manager know – call us 24 hours on +44 (0)20 7315 4420.
Private Jet Cabins
Executive jet aircraft can vary in comfort levels and on-board facilities. PrivateFly's network includes a full range of aircraft choices for your flight from executive shuttle configurations to VVIP luxury. When you submit your flight request, and receive quotes from our operator network you will see images of the aircraft cabins.
In-Flight entertainment
Larger private jets will have a full range of in-flight facilities available for your use. From high-speed internet access to full scale bathrooms and bedrooms. PrivateFly will allow you to browse all the options for your jet hire, compare prices and book the aircraft that best suits your requirements.
Private Jet Charter
For private jet charter advice, prices and aircraft availability call our 24/7 team on +44 (0)20 7315 4420.