Executive jet charter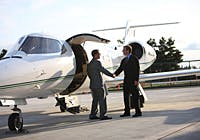 Many businesses use executive jet charters when time and money are at a premium. Private executive jets are available for flights from your local airport to the nearest airport to your destination and are flexible to fit around your business travel plans.
Executive jet charter through PrivateFly saves you time and money with the high standard of service you expect and bespoke to your needs.
Free PrivateFly Membership Offer
Call us now on +44 20 7100 6960 for free PrivateFly membership, executive jet charter advice and prices.
Benefits of Executive Jet Charter:
Fly on flight routes which scheduled airlines don't serve
Ideal for tight schedules when you can't afford delays or long check-ins
Prepare for your meeting on board the flight
Fly to or from the nearest airport to your meeting
Privacy - travel through private jet terminals
Check-in time of 15 minutes before the flight
Flexible flight times to fit your business needs
Drive to the steps of your private aircraft*
Find a price for your business jet hire on any route using our Quick Quote cost calculator
*Dependent on airport regulations
Executive jet charter has just got easier
PrivateFly make it quick and easy with our online price comparison service from over 2,700 jet operators from around the world.
Just type in the destinations, the dates and times you want to fly and the number of passengers and you will get an estimate of the cost within seconds, for a range of aircraft from small prop aircraft and small jets to regional and large airliners.
If you want to get a direct quote then just enter your details and any additional requirements that you have and you will receive the best quotes available, whether you need to fly in several hours or in several weeks time.
The online flight finding and charter process is simple and transparent and if you want to discuss your executive charter flight requirements we are available by phone 24 hours a day, 7 days a week.
How PrivateFly works for Executive Jet Charter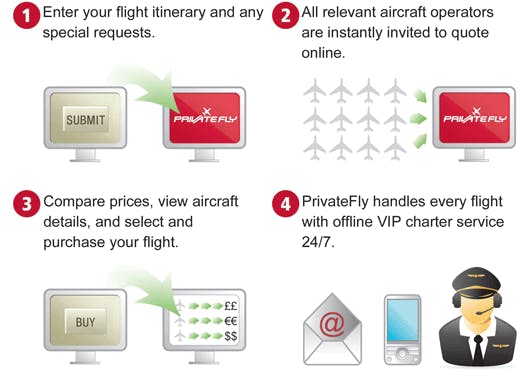 How to charter an executive jet
For a personalised quote for your executive private charter flight or helicopter hire please contact us or call +44 20 7100 6960 (24hrs).