Is now the time to buy a Private Jet?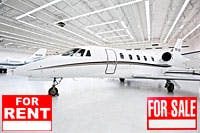 With the prices of used private jets tumbling in recent years, we investigate the marketplace for used private jets. If you're looking for private jet charter prices see how much does a private jet cost.
At the peak of the private jet recession in 2009, nearly 20% of the world's private jets were on the market.
Today this has dropped to 15%. PrivateFly estimates that the equilibrium between a buyer's and a seller's market occurs at 10%. So, as the private jet market recovers, is now the best time to buy a used private jet?
Contact our 24 hour team to discuss private jet charter prices on +44 (0)20 7100 6960, or search for instant estimate prices for any flight route worldwide:
Much like a used car, private jets are subject to ferocious depreciation. With new aviation safety regulations currently being enforced, the market for well-used older aircraft has imploded.
After 10 years, a private jet has virtually lost all of its value. This is due to the high cost of upgrading flight deck avionics, combined with the inefficient fuel burn of older generation engines.
Frequency is a key consideration
The annual fixed costs of owning a private jet are significant and it is only cost-effective for very high-frequency users. The average private jet owner has to fly over 400 hours per year to make ownership as cost effective as chartering.
Here are the calculations:
Fixed annual costs of an average medium-sized private jet:
| | |
| --- | --- |
| Depreciation | £1 000 000* |
| Management | £200 000* |
| Non-scheduled maintenance | £50 000 |
| Total annual fixed costs: | £1 250 000 |
Annual charter cost of an average medium-sized private jet:
| | |
| --- | --- |
| Average hourly charter rate: | £3 000 |
| Number of flying hours required to offset fixed costs | 413 hours |
*Based on a £10m aircraft, calculating an 8 year depreciation to a residual value of 20%, the annual depreciation is 10%.
**Management fees will include; crew salaries, crew training, insurance and liability cover, scheduled maintenance, hangarage and parking, navigation charts and software, cleaning and limited cabin repairs and refurbishment.
Which aircraft should you choose?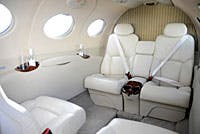 The other important consideration is which aircraft to buy.
Of course, there are far more factors at stake here than the colour of the leather interior and the shape of the windows (important as these are).
The optimal aircraft choice for a journey from London to Geneva may be unsuitable - or at the very least inefficient - for a long-haul trip to New York.
One type of aircraft may be too big to land at a smaller airfield; another too small to make a longer journey without time-costly fuel stops.
Unless you intend to fly on a fairly fixed itinerary throughout the year, this is an important consideration.
The conclusion: Private jet purchase is (almost always) financially ineffective.
With scheduled maintenance 'outage' required throughout the year (when their own aircraft is grounded), combined with the other consideration that a single aircraft type is not suitable or effective for all routes, owning a single private jet is not sufficient for most private jet owners.
As a result, even those who do choose to buy one will supplement flying on their own aircraft by chartering.
Therefore, even for high-frequency private jet customers who fly over 400 hours per year, the reasons for buying a private jet almost always are non-financial.
How to charter a private flight
For private jet flight advice or prices for any route worldwide call PrivateFly on +44 (0)20 7100 6960