Private Jet Catering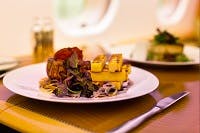 PrivateFly answers your frequently asked questions regarding private jet catering.
For private jet charter advice or prices for any flight worldwide call our 24-hour expert flight team on +44 (0)20 7100 6960 or search for instant estimate flight prices online:
What catering will be provided on my flight?
Standard VIP catering is provided which is appropriate to the length of the flight and the time of day. This would typically be a tray of sandwiches, fruit platter and pastries.
On larger aircraft, hot food can be requested in advance, and the galley will usually have a microwave
Who prepares and provides the catering for private jet charter flights?
We have preferred catering providers for each airport location, globally. The catering will be arranged with the FBO (private jet terminal), and will be freshly delivered for your flight.
If PrivateFly members specifically request alternative catering arrangements, we can arrange this subject to timeframe and availability.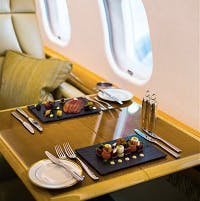 Can I order specific catering for my private jet flight?
Yes, it's possible to order any catering preferences and we will do everything possible to source and provide this.
If your flight is for a special occasion, it's also possible to arrange for special items such as having a birthday cake onboard your private jet, flowers or other specialist.
Extra catering will usually involve an additional cost, quoted on request.
Does altitude and air pressure have an impact on food taste and preparation?
There are rigorous health and safety standards required for private aviation, as well as challenges such as dehydration and retaining food quality. Catering providers take into account how the food travels and how altitude affects taste buds.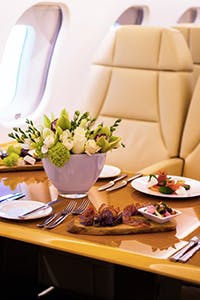 What drinks are available on board private jet charter flights?
Alcohol is served on most aircraft, the exception being some flights within the Middle East. Tea, coffee and soft drinks are provided on all flights.
Champagne is available on some aircraft, and can be arranged on all aircraft by request.
Will there be a flight attendant to serve us on the flight?
On smaller executive jet aircraft, passengers usually help themselves to catering which will be laid out prepared. However, flight attendants can be available on request for any aircraft.
On corporate airliners, long range jets and some medium jets, flight attendants will be on board as standard.
Questions about your private jet catering?
If you would like to discuss your catering requirements on board your private jet or helicopter charter flight please call +44 (0)20 7100 6960 (24 hours).