Private Jets in Numbers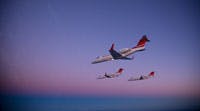 At PrivateFly we love all the facts and figures about flying and here are our favourite number based flying facts.
We know one of the most important number is the price of your flight. Find the price for your flight instantly by using our Quick Quote Private Jet Hire cost calculator.
Flying by Numbers
Average time from check-in to airbourne is 18 minutes on a private jet
8% of all flights in Europe are private jet flights
40% of all private jet flights are empty legs
Citation X is the fastest civilian aircraft in the world flying at 0.92 mach
3000 private jet airfields in Europe, scheduled airlines only fly to 10% of these airports
Each private jet in Europe flies on average 5 times a week
3% of private jet flights have pets on board
85% of private jet pilots are male
80% of European private jet operators manage 5 aircraft (or less)
2/3 of private jet flights are on routes not served by scheduled airlines
How to book Private Flights
For Private Jet Hire quotes or business jet charter advice call us on +44 1747 642777 - we are available 24 hours.