Business Travel Survey White Paper Request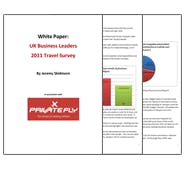 PrivateFly.com recently commissioned a survey asking senior UK executives about their business travel habits.

CEOs, MDs and Chairmen from some of the UK's top companies were invited to participate in the study which was undertaken by Clarity UK, an independent online survey company.

The key findings are detailed in a White Paper, written by business journalist Jeremy Skidmore.
Read full 2011 UK Business Leaders Travel Survey Results & Report
The key findings included:
Public transport is failing UK businesses
Business travel future looks buoyant
Business leaders mix the old with the new
The growing allure of private jet travel
Business travel likes & dislikes
Receive a copy of the full White Paper by email by entering your details opposite; and you will also receive FREE PrivateFly membership.