Enjoy Private Jet Charter Services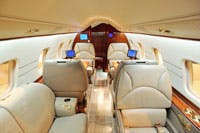 Once on board your private jet you are in your own private space.
PrivateFly aims to meet and exceed your expectations so please ensure you advise our team on your on board requirements. The more you tell us, the more we can make the journey individual to your needs.
Contact our 24 hour team on +44 (0)20 7315 4454 for private jet charter prices and advice. Or see instant estimate prices for your flight online:
With smaller jets and turbo props, your cabin space will be limited but well designed. These types of aircraft do not generally have flight attendants but your crew will assist you when safely airborne.
VIP catering is provided as standard on all our flights but expect standards to vary; this is largely dependant on your departure country.
Small aircraft tend not to have food warming facilities but most medium jets and larger will have a well equipped galley capable of serving hot and cold menus.
Should you have specific dietary requirements or indeed any specific requests about any detail of your flight, PrivateFly will arrange these in advance.
Only a small number of aircraft in the PrivateFly network do not have a toilet.
All medium jets and larger aircraft have fully equipped bathrooms and some of our top end aircraft have luxury bedrooms and ensuite showers.
Most private jet seats are able to be lowered to make a "flat bed" position for optimal on-board comfort.
If you have any questions on the best aircraft for your flight call our team on +44 (0)20 7315 4454.