Private Jet Charter Flights Security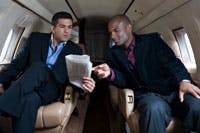 Travelling by private jet is a seamless process from begining to end.
Check-in times are purely airport related and not driven by your chartered aircraft operator. PrivateFly will ensure that your aircraft is ready 30 minutes prior to your scheduled departure time, just in case you wish to depart early. At most airports you should be easily airborne within 15 minutes of arriving at the airport.
Contact our expert flight team on +44 (0)20 7315 4452 (24 hours) for private jet charter advice, prices and availability.
On arriving at the airport, expect to be met by your Captain at the nominated meeting point. Again most airports now have private jet FBOs (Fixed Based Operations) which are effectively private jet passenger terminals. The nominated handling agent from the airport will guide you directly to your aircraft. Many smaller airports will allow you to drive straight to the steps of your aircraft.
If your party are arriving separately, you may choose to either wait for them in the lounge or board the aircraft separately.
At the larger private jet hubs such as London City Airport and Paris Le Bourget, a high standard of concierge services are available.
Ground transportation can also be arranged through the FBO - including limousine services, valet parking and airport transfers.
If you have any questions about your private jet flight call our team at any time on +44 (0)20 7315 4452.