Formula One: Private Jet and Helicopter Charter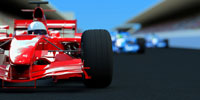 Jet off for track-side seats for Formula 1 races. Private jet charter lets you land closer to the track, and jet you home as soon as the race is over.
Call us now on 020 7100 6960 for private jet charter and helicopter hire prices.
Private Jet Flights for Formula One (F1) Grand Prix
Hire a private jet to fly from your local airport and land at the closest airport to the race. Private helicopter transfers are also available. Search for estimate prices from your local airport.
Private Jet Charter offers:
Flight schedules to fit your travel plans
Check-in time of only 15 minutes before the flight
Flexibility if an event overruns or plans change
Fly from your local airport
PrivateFly offers:
24/7 service from a team of private jet experts by phone
Instant estimate prices for any flight online
Access to 2700+ operators bidding for your flight
Find private jet hire prices online for any flight route, worldwide.
How to charter a jet or helicopter for Formula 1 events
For a personalised quote for your private jet charter or helicopter hire please contact us or call
020 7100 6960.
Formula 1 Car versus a Gulfstream G550

F1 Car versus Gulfstream Jet - An infographic by PrivateFly
Notes to Editors & Bloggers
Embed F1 Car versus Gulfstream Jet infographic on your website, just copy and paste the code in the box below: