MONTENEGRO BY PRIVATE JET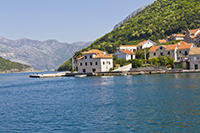 Emerging as the Mediterranean VIP hotspot, Montenegro is one of the fastest-growing luxury tourism destinations in Europe.
The wealthy elite have long-flocked to Montenegro (a favourite hideaway for Princess Margaret, Richard Burton and Elizabeth Taylor). After one of her many visits in the 1960s, Sophia Loren even described it as "like returning to the most beautiful fairytale of my childhood".

During the summer months particularly, Montenegro is one of the most popular private jet destinations. Private flights to Montenegro are also popular as group transfers to and from yacht charters in Porto Montenegro.
For private jet charter prices and aircraft availability call our flight team on 020 7100 6960. Or for instant estimate private jet prices from your local airport use our flight search:
PRIVATE JET AIRPORTS IN MONTENEGRO
Montenegro has two private jet airports:
Podgorica airport, which is the closest to the capital
Tivat Airport, which is the closest private jet airport to both the coast and to Porto Montenegro, the glamorous superyacht marina.
PRIVATE JET CHARTER PRICES TO MONTENEGRO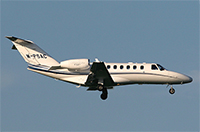 London - Tivat - London from £13 000
Aircraft Type: C525 Citation CJ2 (3 night return)
Passengers: 6
Flight Time: 2 hours 45 minutes
Geneva - Tivat (3 night return)
Typical Aircraft: Cessna Citation CJ2
Flight Time: 2 hours
Seats: 6
Estimate Price: EUR 11 560
Moscow - Tivat (3 night return)
Typical Aircraft: Cessna Citation CJ3
Flight Time: 2 hour 45 mins
Seats: 6
Estimate Price: EUR 18 360
HOW TO CHARTER A PRIVATE FLIGHT TO MONTENEGRO
Call us now on 020 7100 6960 or contact us for private jet charter prices from any airport to Montenegro.
PORTO MONTENEGRO SUMMER UPDATE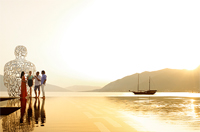 Perched mid-way along the Adriatic, with its endless coastline to the west and majestic mountain ranges to the east, Montenegro's rich historical legacy makes it a fascinating destination for visitors of all ages.

Montenegro is now firmly re-establishing itself as a high-end destination worthy of the elite traveller's attention.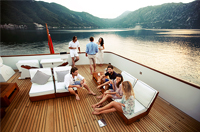 At the heart of this spectacular renaissance is Porto Montenegro, combining a state-of-the-art marina and luxury residences and restaurants. Surrounded by some of the deepest waters in the Mediterranean, Porto Montenegro is on course to become the world's premier superyacht marina, boasting the largest capacity and highest levels of service for superyachts in Europe.

In 2014 the Marina's first branded hotel complex, The Regent Hotel and Residences Porto Montenegro launched, which includes luxury suites studios, penthouses, and a Regent spa and fitness centre.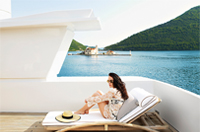 Montenegro's tourism development is expanding quickly. The island resort of Sveti Stefan houses the glamorous Aman Resort, which opened in 2012 and a Banyan Tree, Kempinski and a Hilton International hotel are all being developed, as is a PGA golf course overlooking the UNESCO World Heritage Bay Kotor.

More information on flights to Montenegro
For private jet prices or more information on flying to Montenegro by private jet call us on 020 7100 6960 or contact us.