THE PRIVATE JET MARKET IN SWITZERLAND
Switzerland is a business aviation market that punches well above its weight. One of Europe's smaller nations with a population of just under 8 million, it has one of the continent's busiest business aviation airports, with Geneva Cointrin second only to Paris Le Bourget.
For private jet charter prices and aircraft availability for flight to or from Switzerland call our 24 hour team on 020 7100 6960 or search for instant estimate prices from your local airport: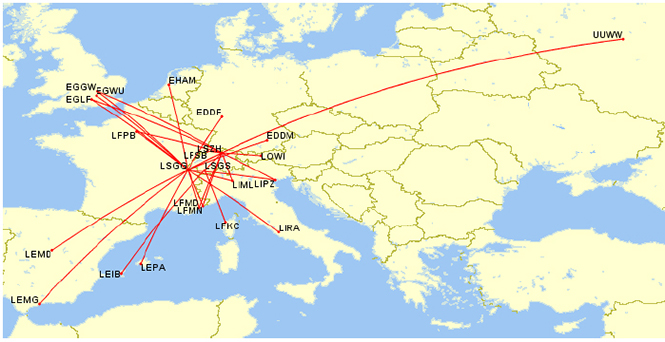 PRIVATE FLIGHT STATISTICS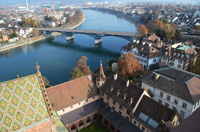 Switzerland has the fourth largest number of private jet flights in Europe behind France, Germany and the UK. On average, Switzerland sees 56,000 business aviation flight movements per year.
In common with the whole of Europe, Switzerland has seen a small decline in private aviation volumes over the past year. Flight departures have fallen by 5% year to date, with Europe seeing a 3% decline as a whole.
PRIVATE JET AIRPORTS IN SWITZERLAND
The busiest private jet airport in Switzerland is Geneva Cointrin airport which is the second busiest private jet airport in Europe, with 36,395 private jet flight movements per year.
Zurich airport is also a busy airport for private jets, and is the sixth busiest airport in Europe with 21,671 annual flight movements.
Bern Airport – popular especially for private jets to the Montreux Jazz festival, which takes place each July.
Basel Mulhouse Airport - this peaks at 123 private jet flights per day during Art Basel, the annual Art Fair.
Sion International Airport – private jets to Sion airport are especially popular during the ski season.
Samedan St Moritz – Another popular private jet ski airport in Switzerland. Ski resorts by private jet
PRIVATE JET CHARTER IN SWITZERLAND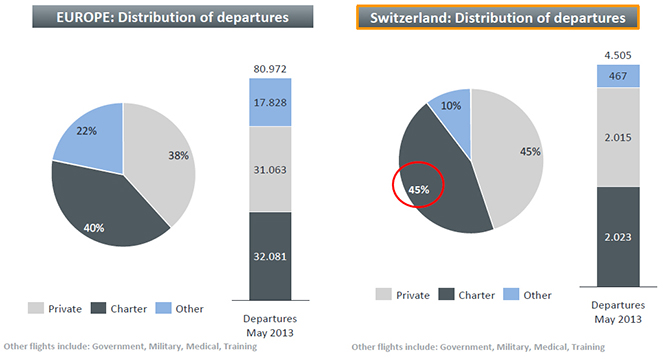 When you compare charter versus private flights (fractional or private-owned), the country has a higher proportion of charter flights than average, with 45% of its May 2013 departures being on chartered aircraft (versus 40% across Europe).
Charter is proving more resilient to market decline than private flights. May 2013, for example, saw just a 2.3% reduction in volumes for the charter segment against May the previous year, whereas a much bigger drop of 8.5% was seen for private or fractional flights.
So, private jet charter share in Switzerland is increasing, which underlines the wider trend towards charter from fractional users. The flexibility and cost-effectiveness of charter have grown in appeal since the recession, and online booking technology has made private jet charter more attractive and accessible.
POPULAR PRIVATE JET ROUTES IN SWITZERLAND
In Switzerland, domestic (internal) flights and connections with France, Germany, UK and Italy are the most important. Geneva to Paris Le Bourget is consistently Europe's most frequented route for business aviation. WingXAdvance analysis shows the top ten city pairings for daily charter flights from Switzerland* and their change in frequency year on year (during May 2013).
#1 - PRIVATE JET FROM GENEVA TO PARIS LE BOURGET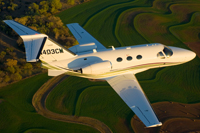 There are just over 100 private jet flights, on an average day between Geneva Cointrin and Paris Le Bourget. Connecting two of the most important business destinations in Europe, this is the most popualr private jet routing in Europe, year-round.
Private jet prices from Geneva to Paris le Bourget:
Day return from € 4 690 EUR (£ 4 060)
Aircraft: Citation Mustang
Seats: 4
Flight time: 55 mins
#2 - PRIVATE JET FROM GENEVA TO NICE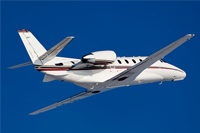 With an average of 74 flights per day, this routing is particularly popular during the summer months in Europe, when the Cote D'Azur becomes one of the most popular private jet destinations for leisure and business travellers. Private jet airport map and prices to Cote D'Azur
Private jet prices from Geneva to Nice:
Dau return from € 6 500 EUR (£ 5 620)
Aircraft: Citation XL
Seats: 7
Flight time: 38 mins
#3 – PRIVATE JET FROM GENEVA TO ZURICH
Seeing 40 aircraft movements per day, the route between Geneva to Zurich is a regular empty sector routing with private jets positioning across Switzerland for their next flight. The route is also popular for internal business trips, ski season flights, and international flight transfers.
See latest private jet empty legs or call the PrivateFly team for empty leg availability on +44 1747 642777.
Here is the full top 10 popular private jet routes in Switzerland by private jet:
| Position | Private Jet Route | Frequency | +/- |
| --- | --- | --- | --- |
| 1 | Geneva – Paris Le Bourget | 102 | -15 |
| 2 | Geneva – Nice Cote d'Azur | 74 | 8 |
| 3 | Geneva – Zurich | 41 | 10 |
| 4 | Zurich – Geneva | 38 | 12 |
| 5 | Geneva – London Farnborough | 35 | 0 |
| 6 | Geneva – London Luton | 33 | 0 |
| 7 | Geneva – Cannes Mandelieu | 25 | 1 |
| 8 | Geneva – Moscow Vnukovo | 25 | -1 |
| 9 | Zurich – Nice Cote d'Azur | 23 | -9 |
| 10 | Zurich – Paris Le Bourget | 22 | -5 |
MOST POPULAR PRIVATE JET AIRCRAFT IN SWITZERLAND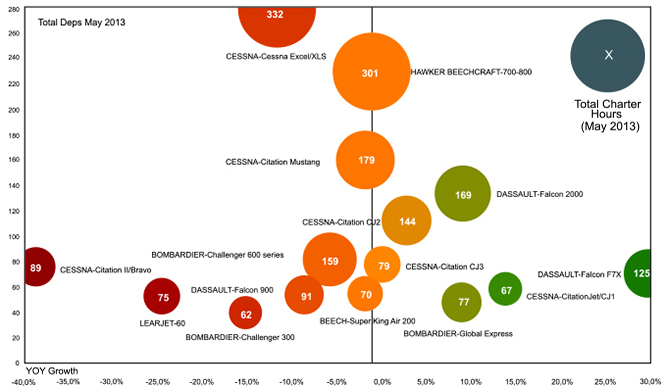 Switzerland has an increasingly high emphasis on business jets, with turboprops suffering more from market decline in 2013 to date (down by 13.6%). Flight volumes in business jets fell by just 1.9%.
PrivateFly customers are more likely to choose larger aircraft when flying in or out of Geneva. Sometimes this is due to higher passenger numbers, but there are also those looking to use more impressive and spacious aircraft, for status reasons.
Despite most of its routes being just a 1 to 2 hour flight time, it's the larger business jets that are growing in flight departure volumes for charter from Switzerland, despite the overall decline. It's clear that when it comes to choosing a business jet in Switzerland, size matters.
*Source: WingXADVANCE.com and PrivateFly data. All aircraft pricing are market estimates and subject to availability.