BILLY BISHOP TORONTO CITY AIRPORT HISTORY
Conceived in the 1930s as the main airport for Toronto, the airport is named after William Avery "Billy" Bishop, a Canadian First World War flying ace.

During World War II, the island airport became a military training base for the Royal Norwegian Air Force. After the war, the airport returned to civilian uses, with flying clubs and several aviation companies setting up at the airport, offering services such as aircraft rentals, air freight, charter flights, pilot training and sight-seeing flights.
Landing at Billy Bishop Toronto City Airport
BILLY BISHOP TORONTO CITY AIRPORT LOCATION
Billy Bishop Toronto City Airport is located on the Toronto Islands in Toronto, Ontario, Canada, just offshore from Toronto city center.
Your views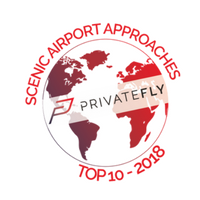 Toronto Billy Bishop has been named a Top 10 Most Scenic Airport, in PrivateFly's annual poll.

Find out more and discover which other airports made the Top 10: PrivateFly Scenic Airports poll results 2018.

Voters commented as follows: "As you decend into Toronto, you are greeted with the skyline and the harbour and the view cannot be matched. Most of the approaches come in over water and as you land on the urban island airport the sunrises and sunsets cannot be beat...to get views like this in one of the world's largest cities is very special."
"When the sun is just right and you are approaching at the right angle, the vast clear Lake Ontario waters below you turn an ephemeral emerald and sapphire hue, with Toronto looming massive in the opposite window."
"Amazing views of the Toronto skyline on an approach that hugs the waterfront."
BILLY BISHOP TORONTO CITY AIRPORT FACTS
Airport Codes: YTZ, CYTZ
Elevation: 252 feet
Latitude: 43.37N
Longitude: -79.40E

For private jet charter from Billy Bishop Toronto City Airport, call PrivateFly at +44 (0) 20 7100 6960.