Inside London Airports - Private jet charter
Overview summary
London is Europe's busiest city for private jet charter, with around 90,000 private jet movements every year. But which London private jet airport should you choose?
The UK capital offers a choice of 14 airports for private aviation, and some offer a choice of FBOs (private jet terminals). Here we give you the inside track, to help you decide which is best for your flight.

For advice on private jet charter or helicopter flights from any London airport call PrivateFly on 020 7100 6960 (24 hours).
London Heathrow | London Gatwick | London City | RAF Northolt | Biggin Hill | Luton | Farnborough | Stansted | Oxford | Cranfield | Southend | Fairoaks | Blackbushe | Stapleford
Exclusive offer - City Pairs
Discover our fixed and exclusive pricing to & from London - and other popular route pairs in Europe.

Fly between London & Paris for €4,500 on the Nextant 400XTi
Fly between London & Amsterdam for €13,500 on the Legacy 600
Other popular routes to & from London, Paris, Nice, Geneva, Frankfurt, Zurich, Barcelona & more
See all routes & prices at www.privatefly.com/citypairs or contact us (24/7) on 020 7100 6960.
London Luton Airport

London's top private jet hub (but on the wane)
Better known as a budget airline hub, many people are surprised to learn that London Luton Airport has been the UK's busiest private jet airport in recent years - and is one of the top 3 in Europe. 

London Luton offers a strong proposition to the private jet customer: Cost effective landing fees; a choice of private jet FBOs; and a 25-minute train link into London (1 hour by car).
But Luton's popularity has started to decline in recent years, with runway availability to private jet customers becoming an issue, due to the airport's growing number of airline flights. And while it is usually open 24-hours, during the peak summer months of June - September night time flights are banned in the summer.

Call 020 7100 6960 for private charter advice and pricing from Signature Flight Support and Harrods Aviation.
London Biggin Hill Airport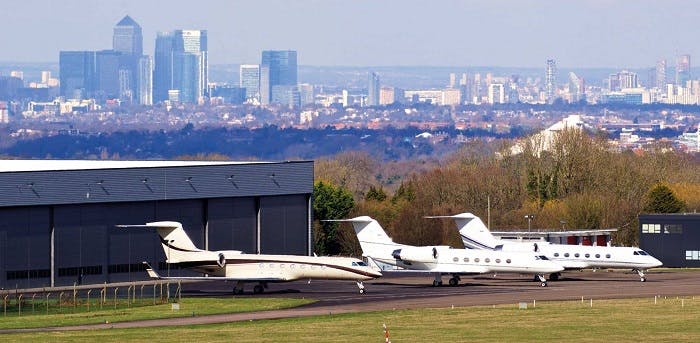 Growing investment & a vintage aviation pedigree
For private jet users looking to access the south side of London, Biggin Hill offers aviation heritage (it is a former RAF military base); cost-effective landing fees; and flexible airport slots. It is now open longer, from 06.30 to 23.00hrs and undergoing a £15M investment program.
Its location is not ideal for everyone, due to its slower road links to London, but it is growing in popularity. 

Call 020 7100 6960 for information and private jet charter options for London Biggin Hill, Biggin Hill Executive Handling, and Signature Flight Support.
London City Airport
The fastest private jet gateway to London
London City is the Formula 1 racing track of private jet airports. Not only is it the closest airport to Central London and less than 10 minutes by car from nearby Canary Wharf, it also offers the fastest departure and highly-efficient VIP customer service.

London City's Jet Centre makes a 90 second promise for landings and departures and it really can take just a minute and a half to walk through the terminal, have your luggage scanned and step onboard your waiting jet.

London City has dropped its landing fees for business aviation in the last couple of years, making it more competitive. And an increasing number of larger aircraft are now able to land on its steeply-approached runway.
But this speed and convenience still comes at a higher cost than other London airports. So you should expect to pay more per flight than if you use Luton or Biggin Hill.

Call 020 7100 6960 for private jet charter flights to or from London City Airport Jet Centre.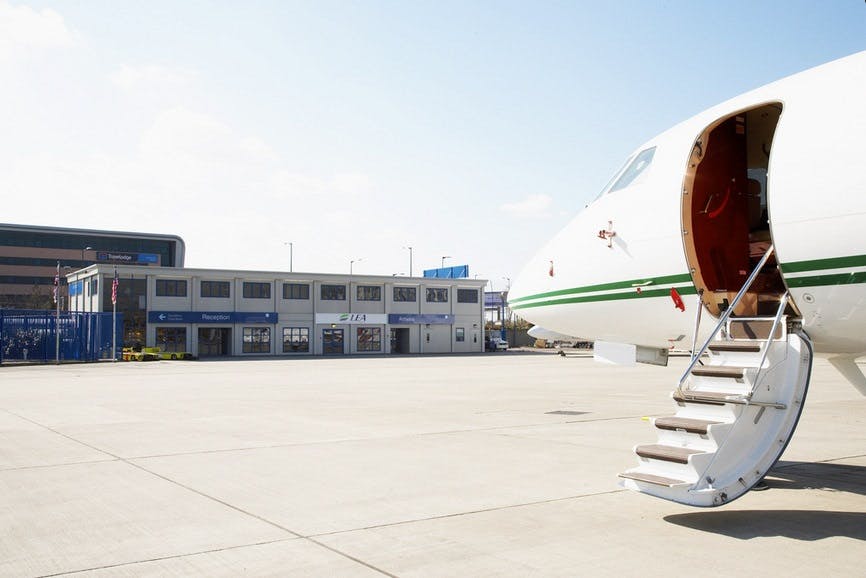 London Farnborough Airport
Stylish & popular choice
In terms of its style and facilities, London Farnborough Airport is the leading private jet facility in Europe. It is also neck-and-neck with Luton as the busiest private jet airport in the UK, after seeing demand grow over the past couple of years.

With Luton's availability and pricing now less attractive, Farnborough is now the top choice for many clients. 

Call 020 7100 6960 for information and advice about flying from TAG Farnborough Airport.
London RAF Northolt Jet Centre
Military & royal airport also available for private jets
With its military usage reducing, RAF Northolt is also a private jet airport. Located just 13 miles (21 km) from Central London, it offers a 30 minute transfer time into the city centre; a long runway (which was resurfaced in 2019) capable of handling all sizes of aircraft: and exceptional security and privacy - which makes it popular with VIP and government flights.
However slot availability is currently limited, and opening hours are 08.00 - 16.00, so many customers do not find it a convenient option.

Call 020 7100 6960 for prices and information for London RAF Northolt Jet Centre.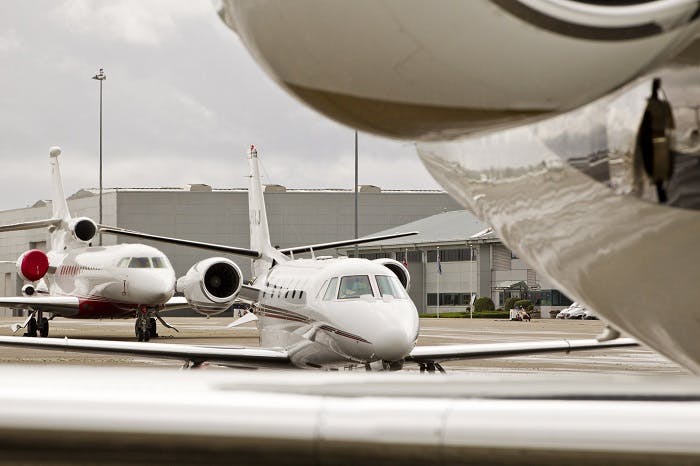 Southend Airport
Popular with the Essex and East London jet set

Bought by the Eddie Stobart Group prior to the London Olympics in 2012, London Southend Airport then underwent a much-needed upgrade, opening a new Jet Centre in November 2017. With good 24-hour availability and lower landing fees, the airport is popular with customers in Essex and can offer fast ground (and helicopter) transfer times into East London.

Call 020 7100 6960 for information on Stobart Air London Southend Airport.
London Stansted Airport
London's most underused airport?
London Stansted Airport offers excellent FBO (private terminal) facilties; 24 hour access; and good transport links. But it is less popular than it should be with London's private jet users - perhaps because it is perceived as being further from London. In fact it is pretty much the same distance away as Luton.

With plenty of aircraft parking it is a popular choice for those using larger private jets, such as the BBJ, but for many others it remains under the radar.

Call 020 7100 6960 for information on London Stansted Inflite Jet Centre, Universal Aviation, or Fayair.
London Oxford Airport
An alternative choice for West London
London Oxford Airport is further away from the city centre than some of London's airports, but its proximity to the M40 motorway means it can rival them for driving times to West London. The airport is increasingly focussed on the business aviation market and offers a dedicated terminal and very efficient service, promising a 5 minute turnaround for private jet flights.

Call 020 7100 6960 for information on London Oxford Airport Oxfordjet.
London Heathrow Airport
Is Heathrow at capacity?
Heathrow airport is London's busiest airport for airline flights - but not for private jets. It is already heavily congested and likely to become more so.

Even for private jet users going through Heathrow's dedicated private jet terminal (FBO), operated by Signature Flight Support, delays are often experienced in the air and on the ground, getting in or out of the airport. Unless you are using private jets to transfer directly from an international flight, we don't recommend using London Heathrow as a private jet airport.

Call 020 7100 6960 for information on Signature Flight Support Heathrow Airport.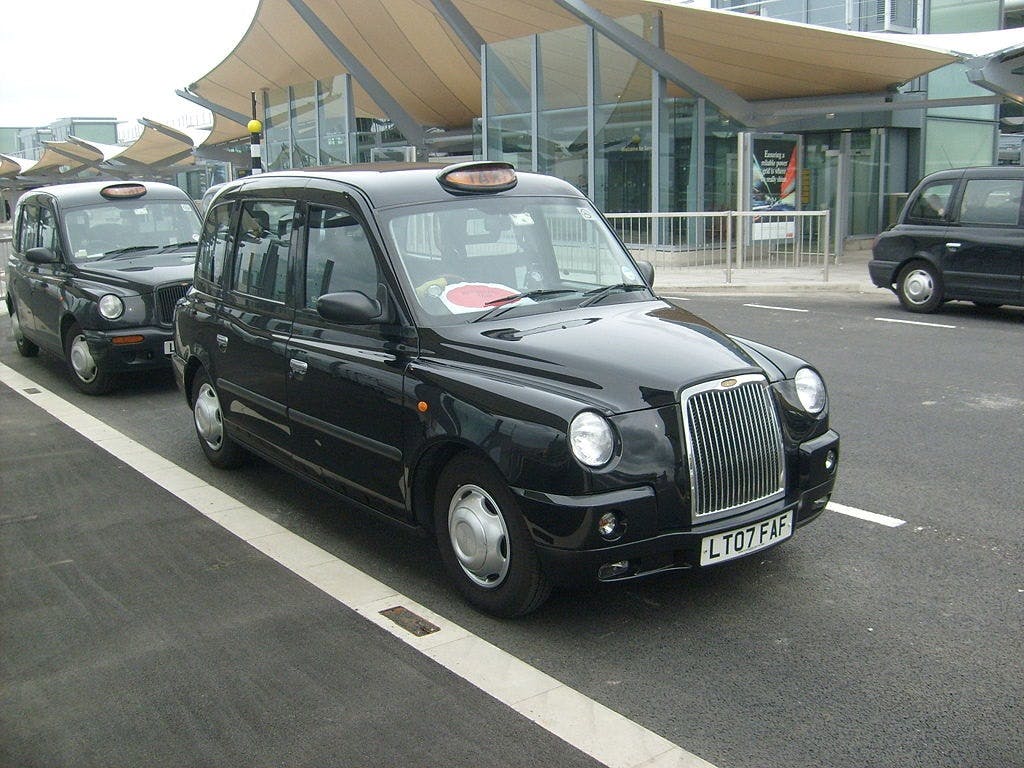 London Gatwick Airport
A stylish start to your flight
Getting in and out of a very large international airport will always take longer. And, with time-saving at the top of the list for private jet users, Gatwick - like Heathrow - is a much less popular private choice than some of London's smaller airports.

Gatwick does, however, have a very efficient and stylish private jet terminal (FBO) operated by Signature Flight Support.

Call 020 7100 6960 for information on Signature Flight Support Gatwick Airport.
London Cranfield Airport
A flexible VIP option for North London
Well-known for its flight school, London Cranfield also handles private jet flights. It a good choice for visitors looking to access the North of London, and is particularly popular during the Silverstone Grand Prix.

Its runway can accommodate all sizes of private jet and, with no runway slots and airside access for cars, it offers flexibility and high levels of privacy.

Call 020 7100 6960 for information on London Cranfield Airport.
London Blackbushe Airport
The most cost effective private jet airport for short European hops
With a fleet of Cessna Mustangs based at London Blackbushe in Surrey, the airfield serves as a convenient and extremely cost-effective airfield for small jets - such as 4 passengers looking for a short European flight.

Steeped in aviation history, the airfield has in the past been an important RAF base and served as a VIP entry point for London.

These days, it provides an incredibly fast, efficient and low-cost operation for private jets, with exactly the same driving time as Farnborough.

Call 020 7100 6960 for information on London Blackbushe Airport.
London Fairoaks Airport
London's secret airport?
Nestled in the Surrey countryside, and with a number of small prop aircraft based there, London Fairoaks provides the perfect airfield for a short weekend hop for Surrey-based travellers.

Operations on larger aircraft and jets are limited by the short runway, however it is also the perfect location to depart or arrive by helicopter for the many local polo clubs.

It also offers a very rapid departure time: At London Fairoaks it is simply a case of parking beside the aircraft and spooling up the engines.

Call 020 7100 6960 for information on London Fairoaks Airport.
London Stapleford Airport
Propping up London's airports
Nestled inside the North East corner of the M25, London Stapleford Airport offers a short runway with a big punch. It allows 24 hour arrival and departures for passengers looking to use the popular KingAir twin propeller aircraft.

Call 020 7100 6960 for information on London Stapleford Airport.
Private Jet Charter Prices - London Airports
Find private flight prices online for private jet charter to or from London airports with our online flight search. For private jet charter advice or prices for flights to or from any London airport call 020 7100 6960 (24 hours).
How to charter a private jet flight in London
For a personalised quote or further information please contact us or call 020 7100 6960 (24 hours).