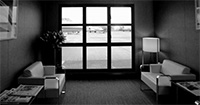 London City Airport Jet Centre is the only FBO for private jet flights at London City Airport.
The Jet Centre has a comfortable lounge with large French windows overlooking private jets parked at the airport. There is a meeting room in the terminal and dining area for catering, snacks and drinks.
The Jet Centre prides itself on their 60 second promise - offering London City Jet Centre users a high speed route through the terminal.

For private jet flights using Jet Centre at London City Airport, call PrivateFly on +44 (0) 20 7100 6960 (24 hours).