Private jet between London and Zurich
The flight between London and Zurich, or Zurich to London, is a very popular on-demand private jet charter route for business aviation in Europe. The flight is popular with business travellers, connecting these two important finance centres - and also as a gateway to top ski resorts in the Swiss Alps.
If you're looking for private jet options between these cities, we've compared three different private jet charter options for your next trip.
London to Zurich is a relatively short trip in Northern Europe and clients can fly in small jets and larger private aircraft – allowing a wide choice of aircraft according to preferences and budget. Some clients will be looking for the most cost-effective aircraft for the trip; others may look for a more spacious luxury cabin; and some upgrade to a larger jet for groups, or more luggage.
For private jet prices or advice for trips between London and Zurich (or any other on-demand charter route), contact us online, via the PrivateFly app or call our 24/7 expert Flight Team at +44 20 7100 6960.
Private jet charter prices from London to Zurich
Wondering how much it costs to charter a private jet from London to Zurich? Here are three example private jet charter options.
OPTION 1: Citation Mustang
This light 'air taxi' is the most cost-effective jet option for 1-4 people.
Seats: 4
Estimate charter price: €5,500 (one way)
OPTION 2: Citation XL
The medium jet Citation XL is widely-available and offers great comfort and efficiency.
Seats: 8
Estimate charter price: €9,600 (one way)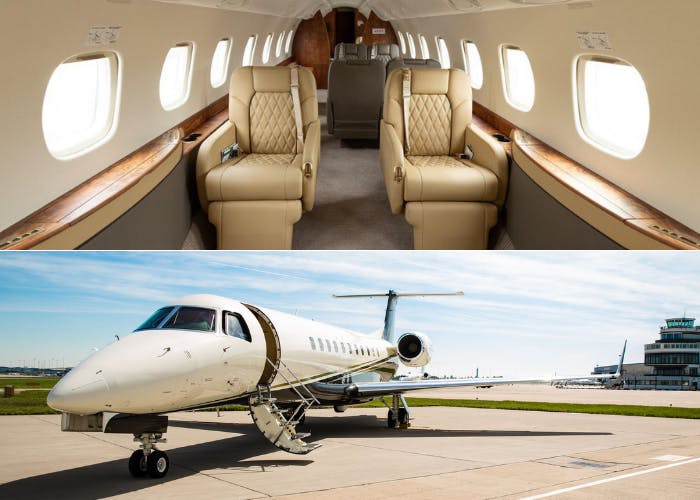 OPTION 3: Legacy 600
The spacious Legacy 600 gives wow factor and top performance - and PrivateFly offers priority access via our family fleet .
Seats: 13
Estimate charter price: £20,300 (one way)
Zurich private jet airport options
Zurich Airport is located 16km to the north of city and is a major international airport for airline flights, offering dedicated facilities for private jet customers via its FBOs. The airport is open 24 hours for private jet flights.
London private jet airport options
London is the busiest city for private jet travel in Europe and offers a choice of 14 private jet airports, in different parts of the city.

These are the most popular private jet airports in London:
For private jet charter prices or advice from London to Zurich (or any global route) or call the PrivateFly team on +44 (0)20 7100 6960 (24 hours).
Empty legs for London & Zurich
For the ultimate private jet savings, empty leg flights between London and Zurich can offer one-way private jet pricing at up to 75% discount. Download the PrivateFly app for the latest private jet empty legs between Zurich and London, plus many other global city shuttles.