Queenstown Airport - Private Jet Charter & Helicopter
Overview summary
Deep in the heart of New Zealand's magical landscapes of mountains, lakes and wild rivers; Queenstown Airport is the only international airport to the south-western area of New Zealand's South Island.

Adjacent to the resort town of Queenstown; the airport really comes to life in the winter when the mountains around the airfield turn into some of the world's finest skiing slopes.

For private jet charter or helicopter flights from Queenstown Airport call PrivateFly on +44 (0) 20 7100 6960 (24 hours).
History | Watch approach video | Your views | Location | Facts | Flight Prices
Queenstown Flight Prices
Instant estimate private jet prices for Queenstown
Compare the jet charter market
Live availability for private aircraft
Live prices within minutes
24/7 customer service and jet charter advice
All aircraft accredited for safety
Advice on flying to and from New Zealand airports
VIP service as standard
Find an price for Queenstown private jet charter on any route using our Quick Quote cost calculator
Queenstown Airport History
Queenstown Airport opened in 1935, and in the 1950s the first commercial flight took place.

By the 1990s the runway had been extended to allow airliners to land. In 2001 a new terminal was built including public viewing areas, cafes and duty free shops.

In 2011 new lights were installed at the airport, allowing aircraft to land outside daylight hours.
Landing at Queenstown Airport
Your views on Queenstown Airport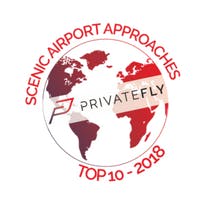 Queenstown Airport offers a famously scenic view on approach and has been voted a Top 10 Most Scenic Airport several times, in PrivateFly's annual poll.

Find out more and discover which other airports made the Top 10 in 2018: PrivateFly Scenic Airports poll results 2018.

Voters commented as follows: "As you fly through the mountains the land looks untouched by humans. Pure wilderness. Flying over the lake or through the mountain valleys is surreal."
"Most outstanding airport approach in the world - always a privilege to fly home to Queenstown. Pilots love it, always a challenge am sure. Every day into Queenstown is different - the four seasons are intense. Flying into Queenstown airport is on the bucket list for any traveller."

"The views of the Southern Alps make this an exhilarating approach. Sometimes you can even catch a glimpse of Mount Cook to the north, or Milford Sound as you reach the end of Tasman Sea. In Winter you see snow-capped peaks and in Summer the alps glisten in the sun."
Queenstown Airport Location
Queenstown Airport is located on the South Island of New Zealand, just 5 miles from the centre of Queenstown.
Queenstown Airport Facts
Airport Codes: ZQN / NZQN
Elevation: 1171 feet
Queenstown Airport has 2 runways, the main runway is 1777 metres (5830 feet), the second runway is 720 metres (2362 feet). The main runway is suitable for all business jets.
Private Jet Charter Prices - Queenstown Airport
Find private flight prices online for private jet charter to or from Queenstown Airport with our private jet cost calculator.
For a personalised quote or further information please contact us or call +44 (0) 20 7100 6960 (24 hours).