JUANCHO E YRAUSQUIN AIRPORT HISTORY
Juancho E. Yrausquin Airport is named after the Aruban Minister Juancho Irausquin and was inaugurated on the 18th of September 1963. While the minister's last name begins with an "I", a typo spelled the airport with a "Y" and is now on every map of Saba and every piece of document for the airport, thus leaving the type in place.
At the time of its inception, many thought a landing strip on the island wasn't possible, but due to the enthusiasm of Captain Remy F. de Haenen, the airstrip was put in place.
Landing at JUANCHO E YRAUSQUIN
JUANCHO E YRAUSQUIN AIRPORT LOCATION
Juancho E. Yrausquin Airport is on the northeastern tip of the Caribbean island of Saba.
JUANCHO E YRAUSQUIN AIRPORT VIEWS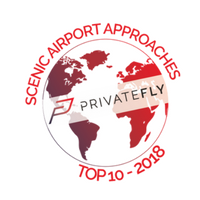 Saba's airport has been named a Top 10 Most Scenic Airport several times, in PrivateFly's annual poll.

Find out more and discover which other airports made the Top 10: PrivateFly Scenic Airports poll results 2018.

Voters commented as follows: "It is thrilling! You see Saba in the distance, then closer and closer. Saba fills the window, you turn, and drop, and land! What a ride!"
"The most beautiful approach is Saba 'King Kong' island with the view on the dramatic north coast. The last turn is impressive as you fear the wings of the plane would touch the rocks. Eventually, while touching the landing field, you can see the ocean at the end of the shortest commercial runway in the world. Last but not least, scary yet impressive and safe!"
"It is the shortest commercial runway in the world and it gives the tourists a real rill landing and taking off. It is fun to be on the plane with newbies because the plane is so small you can hear the intake of collective breath!"
JUANCHO E YRAUSQUIN AIRPORT FACTS
Airport Codes: SAB, TNCS
Elevation: 60 ft
Latitude: 17.38N
Longitude: -63.22E

For private jet charter to and from Juancho E Yrausquin Airport, call PrivateFly at +44 (0) 20 7100 6960.