Private Jet Airports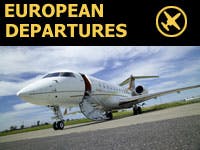 There are over 3000 airports in Europe, and only 10% of these airports are served by scheduled flights.
When you fly by private jet you choose the most convenient airports for your flight, and avoid lengthy journeys to and from airports.
For private jet charter prices from your local airport call our 24 hour team on +44 (0)20 7315 4431 or see instant estimate flight prices for any flight worldwide online:
Here are Europe's most popular private jet airports.
Top 10 Busiest European Private Jet Airports
Paris le Bourget
Geneva
Nice
London Luton
Milan
Zurich
Rome
London Farnborough
Munich
Vienna
Europe's most popular private jet airports, by number of private aircraft flights.
Private Jet Airports: Flight Facts
Paris Le Bourget
Paris Le Bourget was the destination of Charles Lindenburg's historic first transatlantic crossing from Roosevelt Field, in the single-seat, single-engine "Spirit of St. Louis" aircraft. Read more about Paris Le Bourget Airport
Geneva
Geneva's runway starts in Switzerland and finishes in France.
London Luton
Luton is Britain's busiest private jet airport, with 3 private terminals.
Zurich
Zurich's Terminal E is connected to the main terminal of the airport by a short underground railway that plays famous sounds from the Swiss Alps.
Milan Linate
Milan Linate, is 30km closer to the centre of Milan than Malpensa, the main scheduled airport.
Rome Ciampino
Rome Ciampino airport opened in 1916 and is one of the oldest airports still in operation.
TAG Farnborough
TAG's FBO at Farnborough Airport has provided the backdrop to numerous film sequences, including James Bond and Inception. Read more about TAG Farnborough Airport
Vienna
Vienna airport has the world's tallest Air Traffic Control Tower.
Munich
Munich airport is the busiest private aviation airport in Germany with over 30 private jets based at the airport.
Nice
The flight approach to Nice involves a tight turn over the sea to avoid noise complaints from the residents of Cap d'Antibes.
Cannes
Cannes Mandelieu private jet terminal is traditionally busy during the summer season as it is used as a gateway into the Cote d'Azur.
Olbia
A private jet hot spot in the summer months, Olbia and Sardinia remain an annual favourite. Olbia Airport has a highly efficient private jet terminal.
For more airport and private jet facts and figures see our Private Jets in Numbers feature.
Private Jet Charter Prices
Find private flight prices online for private jet charter to or from your nearest airport with our private jet cost calculator: