Under the Radar: Take-off and Landing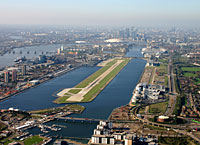 Landing an aircraft is the most critical skill for any pilot and a key focus in initial and ongoing training. Landing conditions vary enormously from runway to runway - and even from hour to hour.
When an aircraft meets the ground (and during its approach) weather conditions, altitude, surrounding terrain, wind direction and a whole host of other factors have to be taken into consideration for a safe and successful landing.
Pilots are trained to manage all these conditions and more - and PrivateFly clients fly in safety to many small airports that are surrounded by high mountains, including many ski resort airports such as Sion in the Alps; or those surrounded by water such as St Barts, London City Airport or Madeira Funchal. This can also be a stunning experience for passengers - see our Top 10 thrilling airport landings.
Not all private jet pilots are qualified to land at all airports and before your flight PrivateFly will confirm that your crew have been specifically trained. The CAA (Civil Aviation Authority) categorise all airports in order of increasing nature of the challenge they present to pilots. These are as follows:
Category A : Category B : Category C
For private jet charter advice call our 24 hour team on 020 7100 6960 or see instant estimate prices for your flight online:
Category "A" Airports
Pilot Training: No special pilot training required
Level of difficulty: Standard procedures apply to these airport so all pilots are qualified fly into Cat A airports
Example Cat A Airports: London Luton, Paris Le Bourget, Frankfurt
Category "B" Airports
Pilot Training: A specific pilot training course is required
Level of difficulty: Non standard procedures are required due to terrain with a combination of other hazards including:
a) Non standard approach aids and or approach patterns
b) Unusual local weather conditions
c) Unusual characteristics or performance limitations
d) Unusual Aerodrome characteristics or which present obstacle, layout or lighting difficulties.
Example Cat B Airports: Cannes, Samedan and Sion. See full list of Cat B Airports
Category "C" Airports
Pilot Training: Ground, simulator and airborne training pilot required
Level of difficulty: Cat C airports have significant operational issues that require pilots to fly difficult approach patterns.
Also there is a high possibility of difficult weather conditions that requiring special and specific landing knowledge. Aircraft performance considerations may also be limiting.
Example Cat C Airports: Calvi, London City Airport, Lugano. See full list of Cat C Airports
As part of PrivateFly's pre-flight safety checks, we check that your pilots are trained for that specific airport. Unlike a car driving licence, a pilot's licence is a basic qualification only and many restrictions are applied. Not all pilots can land at all airports.
Training for pilots to fly Cat B airports can be as simple as the crew completing a 30 minute online computer course. Cat C airports require pilots to complete ground school, simulator training and then flight training with a qualified airport training captain. With landing speeds of up to 150 mph and hillsides on the wing tips, this extensive training is absolutely required make your flight safe.
For any questions regarding pilot qualifications please call PrivateFly Flight Team on: 020 7100 6960