Top 10 Airport Approaches 2011
In November 2011 we asked passengers, pilots and passionate flyers to tell us their favourite airport approach.
We received an overwhelming response, with voters choosing a total of 79 different airports across the world offering a diverse range of stunning views on approach - glittering cityscapes, jaw-dropping mountain views or awe-inspiring approaches over the sea.
For private jet charter advice and prices call our 24 hour expert Flight Team on 020 7100 6960 or search for instant estimate prices from your local airport using our flight search:
Airport Approaches 2013
We updated our Airport Approaches poll for 2013. See which airports made it into our top 10 airport approaches in 2013.
View Top 10 Airport Approaches 2013
Airport Approaches 2011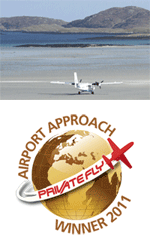 The votes have been counted and your 2011 top 10 airport approaches are:
We ran our favourite airport approaches poll again in 2013 - see which airports moved into our top 10 airport approaches in 2013.
Barra's unique beach runway, which is only accessible at low tide, inspired pilots and passengers alike to vote for Barra Airport as your number one favourite airport approach.

You said:
"Beautiful scenery and it's a once in a lifetime opportunity to land on a beach"
"Spectacular approach over beautiful islands, soft landing on the beach of white shells, taxiing up to the tiny terminal and then realising the whole island breathes to the rhythm of the tide, as you can only land at low tide so the bus, the post-office and the shops open after the plane has landed with mail, people and newspapers."
More about Barra airport & approach video
You said:
"From the East you get to see the Thames estuary from QE2 bridge to Silvertown. From the West your approach is over Canary Wharf and you may see Westminster, London Eye, Tower Bridge, St. Pauls"
"At night, especially, no matter what time of year, the lights shining over some of the most iconic buildings in the world make it feel like Christmas!"
More about London City airport & approach video
You said:
"The Grand Tetons are the most spectacular mountain range you will ever see in your lifetime and you get to see them up close and personal when you fly into Jackson Hole. Sunset arrivals and departures and even more amazing!"
"The stunning mountain and Snake River views knowing you on the edge of Yellowstone National Park combined with the spectacular look at the Tetons make this a very special approach."
More about Jackson Hole airport & approach video
You said:
"The view of the sea, beaches and downtown Oranjestad is amazing."
"I love Aruba's airport because once you've landed in paradise, you are welcomed "home" with open arms by the people of the island. Nothing compares."
More about Aruba airport & approach video
You said:
"It is an Island Airport, on its own island..The airport is surrounded by deep blue seas, turquoise reefs, white sandy beaches and palm trees..."
"approaching over the Maldivian Atolls where you often see turtles and dolphins on approach."
More about Malé airport & approach video
You said:
"It's exciting, invigorating, and when you land, you're on St Barth."
"It will take you breath away, it's like landing on an aircraft carrier."
"Exciting, amazing views and I know I am on the best island in the Caribbean!"
More about St Barts airport & approach video
You said:
"The stunning low level approach brushes past the Great Southern ALPS, you are able to see people skiing as you fly in. Simply beautiful"
"Absolutely spectacular flying in over the mountains, lake and ski field - it literally takes your breath away!"
More about Queenstown airport & approach video
You said:
"Challenging winds and a great view (most of the time!) Not to mention a slight feeling of superiority when you cross the closed road!"
"It is rare that you can circle an entire country while coming into land at an airport with a world famous backdrop to the apron. Perfect for getting a shot of your aircraft parked up."
More about Gibraltar airport & approach video
You said:
"...stunning views of deep deep fjords as you approach"
"Surrounded by arctic landscape, mountains, lakes and fjords."
"Just spectacular!"
More about Narvik airport & approach video
You said:
"It's a very dramatic landing and take off, and if you stand on the beach next to the runway when planes take off and land, you see it from the other perspective!"
"close to the beach, aircraft fly over your head!!!"
"terrifying yet brilliant"
More about St Maarten airport & approach video
How to charter a private flight from / to your favourite airport
For more information on our services or for a personalised private jet quote please contact us or call
+44 1747 642777.